Predizvik za mladi na Makedonija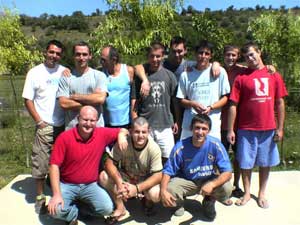 Predizvik za mladi na Makedonija (Teen Challenge Macedonia) is a non-profit interdenominational Christian association of citizens for social-humanitarian and educational purpose registered in Macedonia, facilitated in part through Eastern Europe Outreach, Inc in the USA.
Teen Challenge Macedonia was officially founded in 1995 in the capital city, Skopje. Since its' beginning, has held many seminars throughout the country for the entire ethnic and religious cross section of Macedonia's culturally rich society. This includes ethnic Macedonians, Albanians, Roma, and Serbs and covers ground with Orthodox Catholics, Muslims and Roman Catholics. For some time, we had the ability to hold one-on one counseling in the Skopje City Hall. This has now been superseded and integrated into our Turning Point program within our organization. In order to maintain a consistently high quality of care, our staff members have regularly attended courses and seminars in different Teen Challenge Leadership training seminars world-wide.
As an organization, we have come a long way since 1995. Our original headquarters was located in a corner in the Pastors' apartment. We now own two houses, which are used as residential rehabilitation male centers, where is located the national office. The Turning Point program is coordinated from the same national administration center but group sessions are held in the church.
Since June 2004, we have been running a rehab. program. Our work has been recognized by the governmental officials. As a result of that, Teen Challenge Macedonia became a part of the Coordinative Body of the City of Skopje, that is making decision regarding how to deal with the drug problem in the country.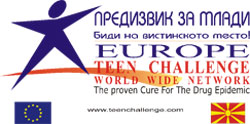 Our goal:
Successful and complete rehabilitation and reintegration in the society of those that are usually called "the bottom" of the society. With our work we want to show that the root of the addiction problem is lack of attention, love and understanding, will and time for the problems of the young adults.